College Costs Homepage
Currently on the Miles Community College campus we offer two different living options:
Pioneer Hall
Completed in the fall of 2003, this two-story hall is the latest edition to the campus of MCC, inviting students to take part in the new environment offered by this building; an experience that goes beyond just the foundation and the walls.
Hall Features
Free Laundry Facilities
Double Rooms (available as single if space is available)
Access to vending machines
Common Area on 2nd floor
Kitchen on 1st floor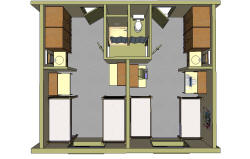 Room Features
Wardrobe for each resident
Shared private bathroom for every two rooms
Extended length twin beds (able to be bunked)
Sink
Phone lines for each resident
High Speed Internet access
Cable Television
The Quads (Yellowstone, Powder River, Sunday Creek)
Named for the ability for four residents to live together in an apartment setup, the Quads offer a unique living atmosphere on-campus. Each 'quad' has a central living space including a kitchen area, a shared bathroom, and two individual bedrooms.
Quad Features
Wardrobe for each resident
Twin beds (able to be bunked)
Full bathroom for every quad
Cable Television
Phone lines for each resident
High Speed Internet access
Refrigerator
Microwave
Living area (unfurnished shared space)
Desks
Residence Hall Documents
Residence Hall Costs 2013-2014
Pioneer Hall Double: $1275 per semester**
Pioneer Hall Single: $2085 per semester**
Quads: (2 bedrooms Per unit)
Quad Double: $1720 per semester**
Quad Single: $2495 per semester**
**Dorm deposit $200 (Non-refundable cleaning fee of $50)
Dining Services Meal Plans: (per semester)
Meal Plan A: $1540
Meal Plan B: $1390
Meal Plan C: $1240
*Meal plans will be automatically assessed each semester and may not be carried over from semester to semester or transferred to another student. No unused amount of the meal plan will be refunded. Students are encouraged to budget throughout each semester.