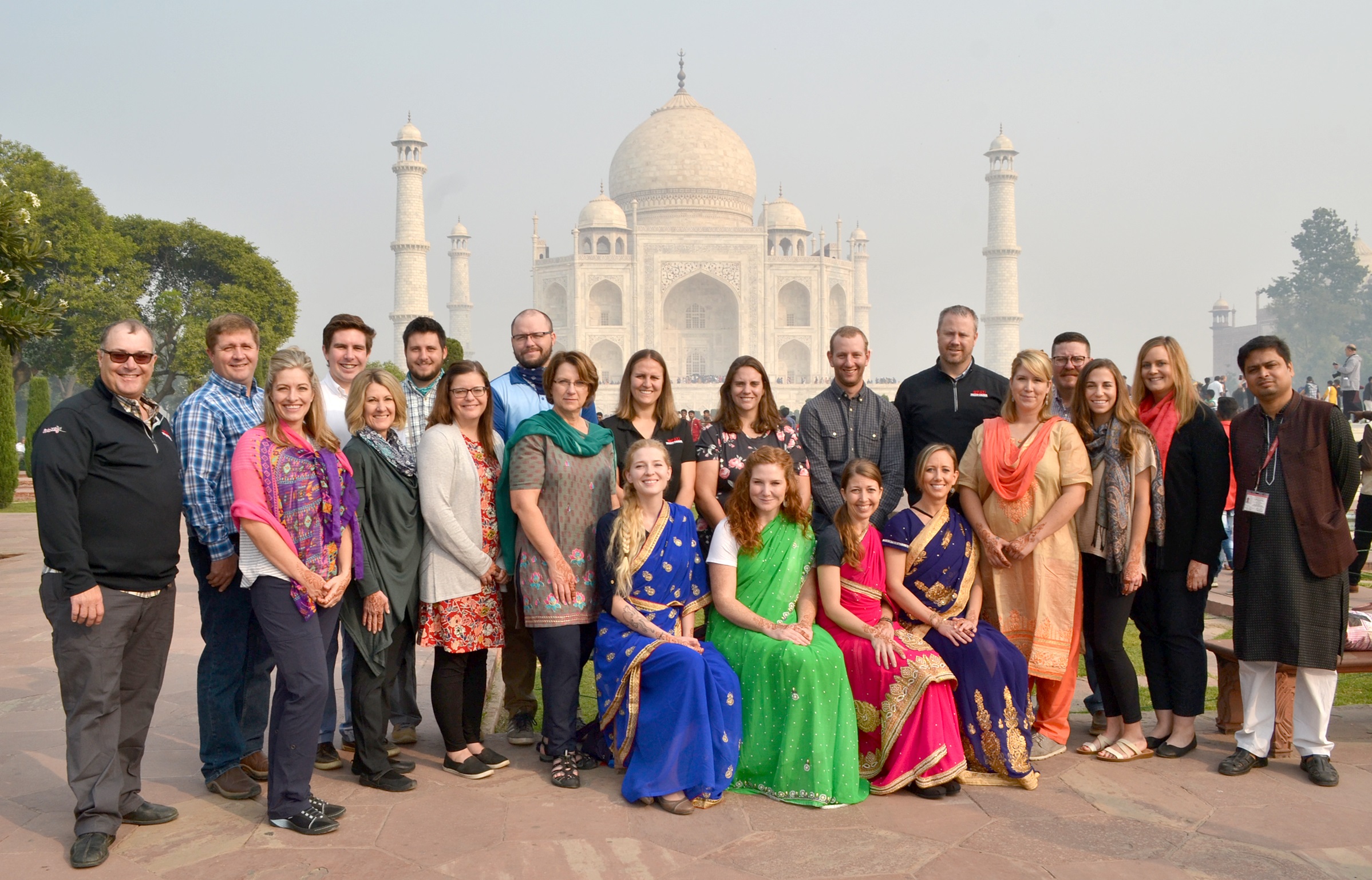 REAL Montana Class III travels to India
Miles Community College Ag instructor Kimberly Gibbs just returned from India as part of REAL Montana (Resource Education and Agriculture Leadership). For Kimberly and other members of REAL Montana Class III, this was the eighth seminar in their two-year educational program.
The class began their twelve-day Indian experience in Mumbai, where they toured a wholesale fish market, met with staff from the American Consulate, and visited the residence of Muhatma Gandhi and a local grocery store. The group then traveled by air to Delhi for meetings with the Federation of Indian Mineral Industries, Indian Agricultural Research Institute, and Corteva Agri-Science, a division of DowDuPont. While in Delhi the group also celebrated the Diwali Festival with a local family, rode a rickshaw to a spice market, and toured many historical sites including the Jama Masjid mosque, Humayan's Tomb, and a Hindu Temple. Next, Class III visited a sugar cane factory, where they met with local farmers, then continued on to Agra where they visited the Taj Mahal, Agra Fort, and a small diversified farm. Finally, Class III traveled by train to Ludhiana where they visited the Punjab Agricultural University, a co-operative bank, the Beauscape vegetable and flower seed farm, and Gill farm, a family operation that grows seasonal vegetables, marigolds, and other cash crops. The last day in India included a tour of the National Dairy Research Institute at Karnal and a Rice Mill.
"Understanding a culture is key to understanding their agriculture and business practices. We are accustom to large scale farming and ranching in Montana, however India's average farm size is less than 5 acres in size." Says Gibbs.
Eighteen of Montana's emerging and established leaders were competitively selected from a pool of qualified candidates representing a wide variety of agriculture and natural resource industries across the state to take part in Class III of REAL Montana. The mission of REAL Montana is to build a network of informed and engaged leaders to advance the natural resource industries in Montana. The two-year program features eight in-state seminars; a five-day national study tour in Washington D.C.; and a twelve-day international trip. Seminars feature training in natural resource development, agriculture institutions and agencies, public speaking/media, economics, state and federal policy, international trade, urban/rural relationships, water issues, and other current industry topics.
REAL Montana is funded through a partnership with Montana State University Extension and private industry. Oversight is provided by an advisory board of industry leaders. The program will start accepting applications for Class IV March 1, 2019.
Complete program information is available at www.realmontana.org or by contacting Tara Becken, program director, at REALMontana@montana.edu.