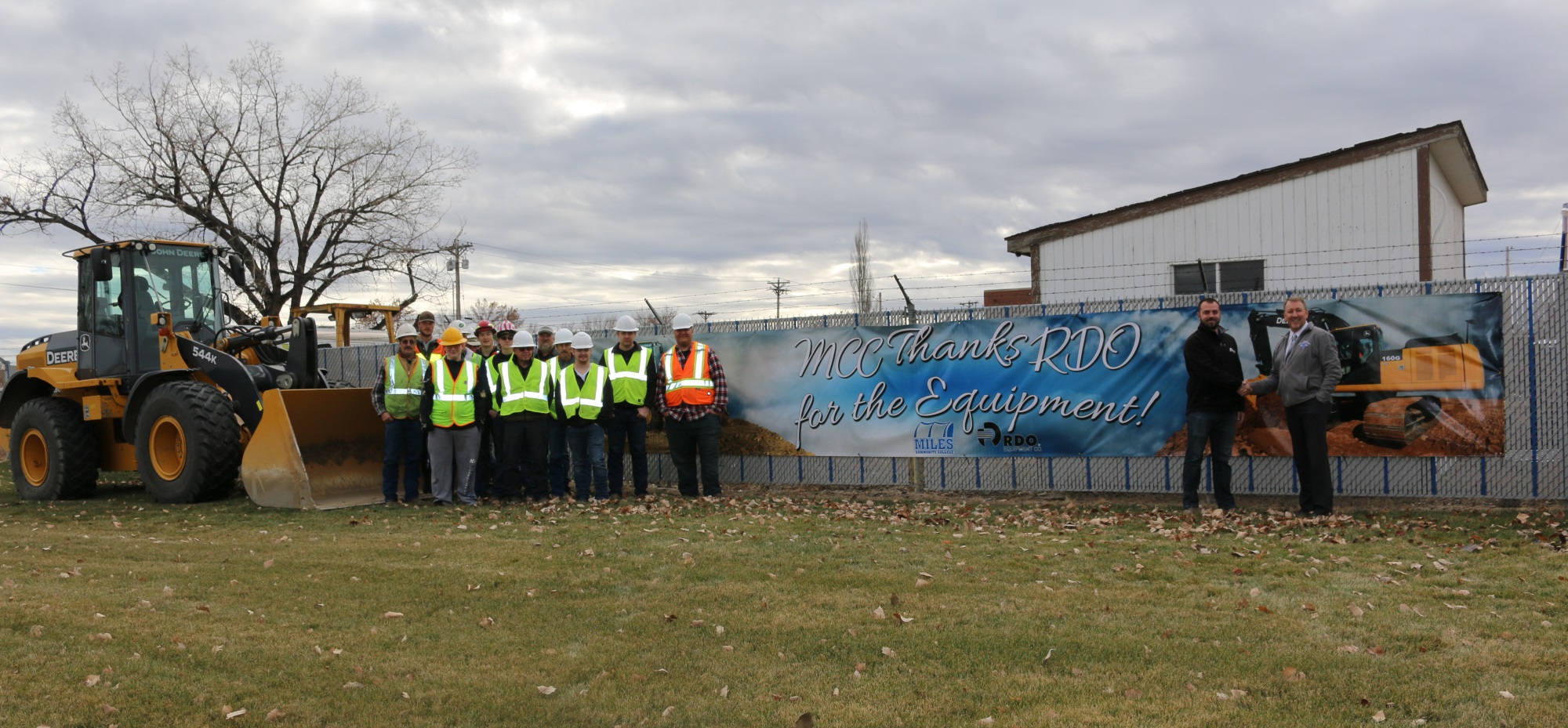 RDO & MCC Heavy Equipment Partnership
Miles Community College will soon have better-trained Heavy Equipment Operators, as a result of a partnership with RDO Equipment Co. out of Billings. RDO is providing the MCC Heavy Equipment program with an excavator, loader, motor grader, and bulldozer. This is the result of a five-year contract between RDO and MCC, in which RDO is providing new equipment for the students to work on and MCC will pay a very reduced rental rate for the equipment.
The College's current equipment is in need of updating, so this partnership with RDO has come at an excellent time. MCC President, Dr. Stacy Klippenstein commented, "We are excited to announce this partnership with RDO and appreciate their willingness to help MCC better prepare our students. They are a great company and this shows they believe in the training we provide."
"This is a perfect opportunity for Miles Community College students to use several pieces of our equipment," stated Ryan Hutchinson, RDO Equipment Salesman in Billings, MT. "The students will get to work on the actual equipment that they will be working on once they finish the program and it gives them the chance to get them off of the simulators earlier."
RDO's equipment will support education and help to assist students and add to Montana's workforce, since most students stay in the state after graduation.
"RDO has really stepped up to help our program," commented MCC's Heavy Equipment Instructor Dale Marcil. "The students have already been able to operate the equipment and see how technology has benefited the industry and operation of the equipment. They now have the ability to go from our simulators to the equipment and have a better understanding of controls at a faster rate. I would like to thank all of those who were involved in making the newer equipment available."
The Miles Community College Heavy Equipment program sees about 10 graduates per year. To learn more about the Heavy Equipment program at MCC, visit milescc.edu or call us at 406.874.6100.