MCC Launches Free Dual Enrollment Initiative and Related Scholarship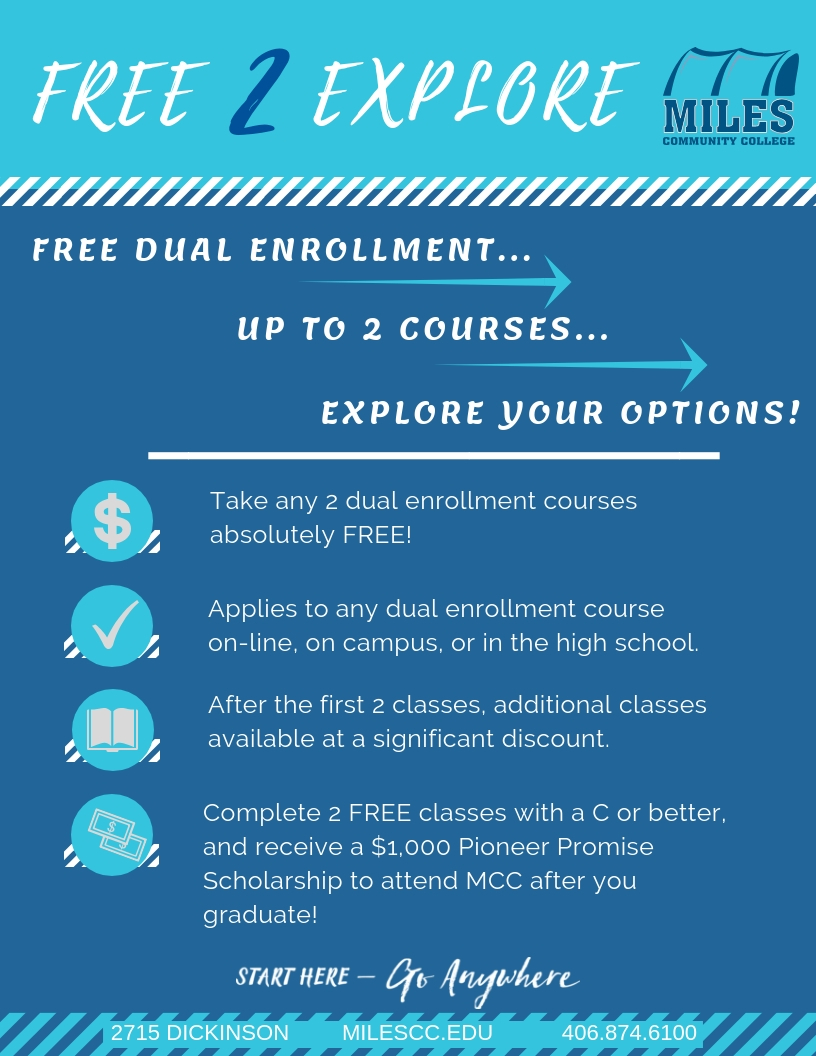 Miles Community College is proud to announce the implementation of a new free dual enrollment program for Montana high school students. The "Free 2 Explore" program offers two free dual enrollment courses to any eligible high school student.
High school students earning free dual enrollment credits through the "Free 2 Explore" Program can continue to maximize their savings by applying to attend MCC after they graduate from high school. Any student who passes 6 credits of online or on-campus classes from MCC with a C or better will be automatically awarded a $1,000 scholarship through the Pioneer Promise scholarship program, which can be applied to tuition charges at MCC when the student enrolls as a degree-seeking student after graduating high school.
Erin Niedge, MCC Dean of Enrollment Management, praised the campus-wide efforts to make the "Free 2 Explore" program possible. "Combined with our Pioneer Promise scholarship program, this initiative has the potential to save area families a great deal off the cost of a college education," she states. "We are excited to see our offerings for high school students continue to evolve."
Miles Community College has long been a pioneer in the area of dual enrollment, having launched a concurrent enrollment program with Custer County District High School in 1993. Since then, partnerships with area schools have expanded, and MCC enrolls a number of high school students in college-credit only classes on campus or online each year.