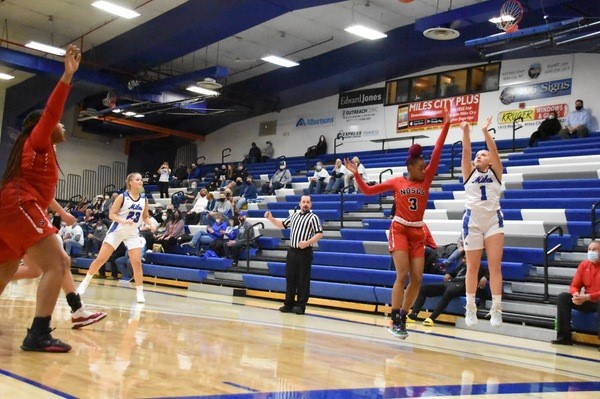 MCC Women's Basketball Team to Parade on Miles City Fire Truck
After a phenomenal 2020-2021 season, the Miles Community College Women's Basketball team is being honored by the town of Miles City. On Friday, May 7 at 3:00pm, the Miles City Fire Department will escort the team on their fire trucks and parade them through town, a tradition held in Miles City to congratulate local winning student athletes and teams. The route will drive by local elementary schools in the area before school is let out for the day.
Miles Community College Women's Basketball secured the 2020-2021 Mon-Dak Conference regular season title for the second time in three years. They went on to host the post-season Region XIII Tournament at home in Miles City on the MCC campus. In April, the team earned the 18-seed in the Region XIII Women's Basketball Championship Tournament in Lubbock, Texas, where they beat Gulf Coast State in an exciting over-time win before losing in the second round to Trinity Valley.
"Our women's basketball team had an outstanding season, and we are very proud of them," said MCC Athletic Director Jerry Olson. "The team really felt the encouragement and support of the Miles City community this year- it's great to see just how proud the community is of them!"